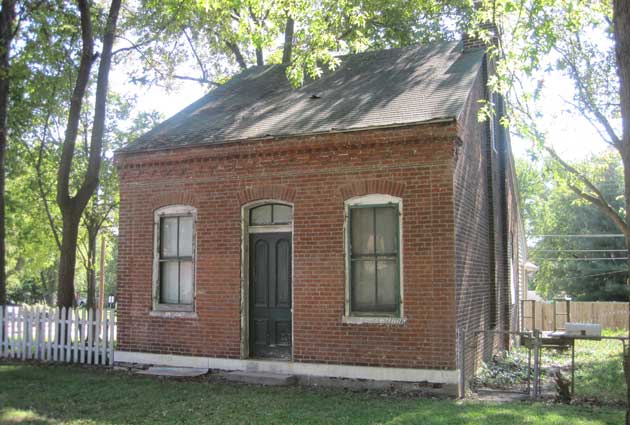 The Belleville Historical Society was chartered as an active preservation organization and, since its founding in 2010, has launched several important preservation and education efforts in Belleville.
In addition to the projects below, the Historical Society has led several efforts to save and restore historically-significant buildings in Belleville (you can read about one successful effort in the Belleville News-Democrat). The Historical Society also sponsors a yearly photography contest for high school students, as well as other outreach programs. More information about these projects will be posted soon.
If you have any questions about these projects or would like to join us in preserving the history of Belleville, please contact us at bellevillehistoricalsociety@gmail.com or 618-531-7753. Your donation will also help fund and expand these initiatives.
Old Hotel Belleville / Meredith Memorial Home
The Belleville Historical Society is involved in an effort to save the historic Hotel Belleville/Meredith Home on our city's Public Square. We are currently seeking a developer to restore and repurpose this Art Deco beauty.
Saving Hotel Belleville »
Garfield Street Historic Saloon
The former Garfield Street Saloon was built in 1894-95 by Adam Gintz. Gintz was president of the Western Brewing Company, which brewed Stag Beer in Belleville from 1907 to 1988. The Historical Society purchased the building in 2010 to serve as a venue for events and eventually house a museum dedicated to Belleville's brewing history.
Help us stock the museum with Belleville brewery memorabilia »
Learn more about the history and future of the Garfield building »
Architect Charles Erwin King
Midcentury modern architect Charles E. King practiced in Belleville from 1947 until 1961. At least 36 of his residential designs and 19 of his commercial designs in Belleville were built, and all but two still stand today. In 1991 King was named of one of Architectural Digest's "Top 100 Architects."
Learn more about Charles E. King and his works »
Midcentury Modern Architecture Museum / Blazier House
The historical society is in the process of restoring a Midcentury Modern home designed by Charles E. King to serve as an architectural museum in Belleville.
Learn more about the Blazier House »
Belleville Walk of Fame
The Belleville Historical Society "Walk of Fame," which was initiated in 2014 as part of the city's Bicentennial celebration, honors Bellevilleans who have made "significant contributions to our city, region, or nation or who have brought fame to Belleville." The Walk of Fame is located on the northwest quadrant of Belleville's Public Square, where plaques mark the contributions of our inductees.
Learn more about the Belleville Walk of Fame »
"Historic Belleville" Calendars
Each year the Belleville Historical Society releases a calendar to promote awareness of Belleville's history and raise money to support preservation efforts.
Buy the 2019 Calendar: "Shopping Small on Main Street" »
Fund to Save Historically Significant Homes from Demolition
The Belleville Historical Society is attempting to raise a fund of $100,000 to renovate a historic house at 100 North 11th Street in old West Belleville. Upon completion, the house would be sold and the money would be put back into a fund to do the same with another historic house destined for demolition.
Give to the fund or learn more »
Belleville Bicentennial
In 2014, Belleville celebrated its 200th birthday. Throughout the year, the Historical Society was involved in events to celebrate and promote Belleville history.
Learn about Bicentennial events »
Old Belleville Township Stadium Pillars
The four Art Deco pillars that had been a hallmark of Belleville Township Stadium since 1939 were in danger of being demolished in the spring of 2012 to make way for new construction. The Historical Society was able to save the pillars and is seeking donations to cover the cost of their preservation.
Help us save the BTHS Stadium pillars »