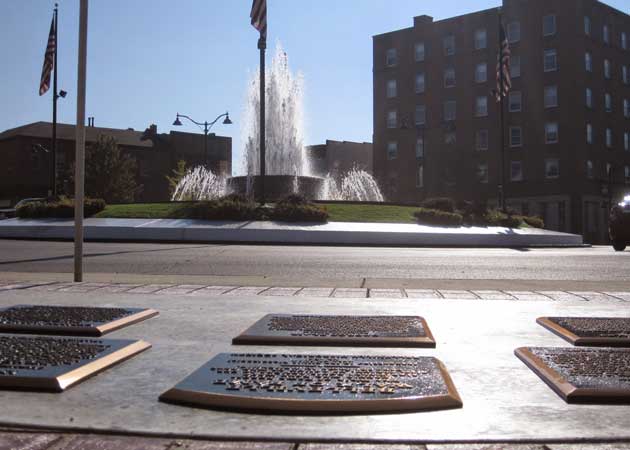 In honor of Belleville's Bicentennial, the Belleville Historical Society was able to realize one of our earliest visions for our organization and the city: The Belleville Walk of Fame. With help from the city of Belleville and concrete donated by Upchurch Concrete, the Walk was installed on the northwest quadrant of the Public Square, celebrating five initial initial inductees at a public ceremony in October 2014.
The Walk of Fame honors people who have made significant contributions to the history or renown of the city of Belleville. A new class of honorees will be inducted every two years. A separate project to install plaques on historically significant buildings in downtown Belleville also commenced in 2014.
One goal of both projects is to make Belleville's history visible to those who live here and visit. "All of this history happened right beneath our feet, and in and around these places we pass each day," noted historical society president Larry Betz. "We want to make that history apparent and accessible. We're doing this to serve Belleville's current and future residents, just as much as to honor those in its past."
Belleville Walk of Fame
Located on the Belleville Public Square, northwest quadrant
Open in Google Maps »
2018 inductees
The public is invited to join us for the induction ceremony on October 6, 2018.
See ceremony details »
Carrie Alexander Bahrenburg, a businesswoman who first ran for — and was elected to — political office in 1901, 19 years before the 19th Amendment to the U.S. Constitution recognized women's right to vote.
Biography coming soon.
Les Mueller, a Major League Baseball pitcher who played for the Detroit Tigers in 1941 and 1945. After his baseball career ended, Mueller returned to Belleville and worked in the family's furniture store until his retirement in 1974.
Biography coming soon.
2016 inductees
Gus and Sophia Koerner
Gus Koerner, who immigrated to Illinois from Germany to Illinois in 1833, was elected Illinois Lieutenant Governor in 1852. He played a primary role in the organization of the Republican Party in Illinois and served as manager for Abraham Lincoln at the 1860 Republican Convention. Sophia, Gustave's wife, was founder of the Belleville Kindergarten Association in 1874. Their home on Mascoutah Avenue is currently under restoration.
Edward Daley
Edward Daley moved to Belleville in 1916 to become the executive director of the newly formed Greater Belleville Board of Trade. In 1917, he led the effort to convince the War Department to build Scott Field near Belleville. He became the first executive director of the Belleville Chamber of Commerce in 1924 and in 1929 successfully began orchestrating the planning and financing of the Hotel Belleville.
Julius Liese
Julius Liese immigrated to Belleville in 1864, became a bookkeeper, and began teaching music. He joined the Belleville Philharmonic orchestra in 1867 and became its second conductor in 1869 and continued that role until his resignation in 1885. In 1874 he established the Liese Lumber Company at its current East Main Street location, and later became president of the Sucker State Drill Company and was co-inventor of seed-planting drill.
2014 inductees
Belleville Mayor Mark Eckert and inductee Bob Goalby spoke at the Walk of Fame's inaugural induction ceremony. Belleville Historical Society vice president David Cox was the emcee.
George Blair (1759-1833), Belleville's Founder
Blair was a Scottish American who arrived in St. Clair County in the 1790s and became the county sheriff. Soon after 1800 he moved to a 200-acre farm in the Clinton Hill Precinct. On March 10, 1814 he concluded negotiations with a county commission to make his farm the county seat to comply with the territorial government's requirement that the county seat be centrally located. In return for moving county government from Cahokia to his land, Blair donated one acre to the county for the public square, platted a town he named Belleville (French for "beautiful city"), and promised to donate every fifth lot to the county.
Ninian Edwards (1775-1833), Illinois Leader, Town Developer
Edwards came to Illinois from Kentucky in 1809 to become territorial governor. After Illinois attained statehood in 1818, he served as one of the state's first two US Senators. Even before moving to Belleville in 1824, Edwards heavily invested in the town. In 1817 he purchased all of Belleville's unsold lots and encouraged development by giving or selling them at discounted prices to people such as teachers and skilled artisans he believed would benefit the town. In 1826 he was elected the state's third governor. During the Belleville cholera epidemic of 1833, he contracted the disease while aiding cholera victims and died.
Lyman Trumbull (1813-1896), Apprentice Politician to National Leader
A native of Connecticut, Trumbull arrived in Belleville in 1837 to practice law. He successfully challenged the last legal justification for slavery in Illinois. Before moving from town in 1848, he entered politics, serving a term in the Illinois House and twice becoming Secretary of State. Subsequently he would serve on the Illinois Supreme Court before becoming a US Senator, defeating, among others, Abraham Lincoln. He was a founder of the Illinois Republican Party. When in the US Senate he was a major force behind the adoption of the 13th Amendment to the Constitution, which abolished slavery in the United States.
Christian "Buddy" Ebsen (1908-2003), Star of Stage, Screen, and Television
Born in Belleville, Buddy was the son of Christian Ebsen, the physical fitness instructor of the Belleville Turners. Fitness and dance instruction by his father served Buddy well and led to a 70-year career in show business. The Ebsen family left Belleville in 1920, and by the late 20s Buddy was performing on Broadway as a dancer. He arrived in Hollywood in the 1930s and danced in films starring Shirley Temple and Judy Garland. He gained recognition in television in the 1950s in Walt Disney's "Davy Crockett," but greater fame came in the 1960s and 70s when he starred in the "Beverly Hillbillies" and "Barnaby Jones."
Robert "Bob" Goalby (1929), Masterful Athlete
A Belleville native, Goalby graduated from Township High School in 1947 after starring in football, basketball, and baseball. He played football at the University of Illinois but chose golf for his career. Having honed his golf skills while a caddie at the St. Clair Country Club, Goalby turned professional in 1952 and eventually won 11 PGA tournaments. In 1963 he was chosen to play on the US Ryder Cup Team and in 1968 won the Masters Tournament Championship. He was instrumental in forming the Senior PGA Tour (now the Champions Tour) in 1979 and went on to win two senior tournaments. Throughout his career, Goalby remained a resident of Belleville, where he continued to promote civic improvement.