Midcentury Modern Architect Charles Erwin King

Midcentury modern design is making a resurgence in the 21st century. In Belleville, people are rediscovering the works of an architect who designed a pocket of remarkable MCM homes and businesses. The architect: Charles King. "King" is a short documentary film written and directed by Jeff Allen©2020
---
Charles Erwin King was born the middle of three children to Lawrence and Myrtle King on October 10, 1919, in the small town of Cythiana, Kentucky. In 1924, the family move to Lexington and in 1933, to Louisville. King graduated from Louisville Male High School in June of 1937 and entered the School of Architecture at the University of Illinois that September. In 1942, he had his professional training interrupted by World War II.
While at the University of Illinois, King met Audrey Marsh from Belleville, Illinois. In June of 1943, he took a leave of absence from serving his country to return home and marry Audrey at St. George's Episcopal Church in her home town. Upon returning, he served in the U.S. Army Air Corps as a B-17 Command Pilot until September of 1945 and then returned to the University of Illinois. In 1946, he was awarded a Bachelor of Science in Architecture Degree by the College of Fine and Applied Arts.
---
My work is made of simple, straightforward elements arranged in a manner that produces a cohesive result, visually pleasing, functional and containing interesting interior spaces, without relying upon current architectural clichés. It would be generally classified as contemporary in style and feeling. After analyzing the site, the constraints and the needs and desires of the client, I attempt to arrange volumes and spaces that have an impact, work properly and provide a background for a variety of furnishings. Prominent design elements include strong fenestration combined with an intelligent use of conventional construction materials.
— Charles. E. King describing his design philosophy
---
Upon graduation, Charles and Audrey moved to Belleville. In 1947 he opened an office, "Charles E. King, Architect," at 19A North Illinois Street and soon took his first commission for a private residence. He favored a design style that today is known at Midcentury Modern. He continued to practice in Belleville until 1961, when his firm was purchased by Hellmuth, Obata and Kassebaum (HOK) in St. Louis. During his fourteen years in Belleville, King designed and completed 34 public and commercial projects and an estimated 100 custom designed residences and home additions. Perhaps most notable is the Belleville City Hall. All but three of King's works in Belleville still stand today.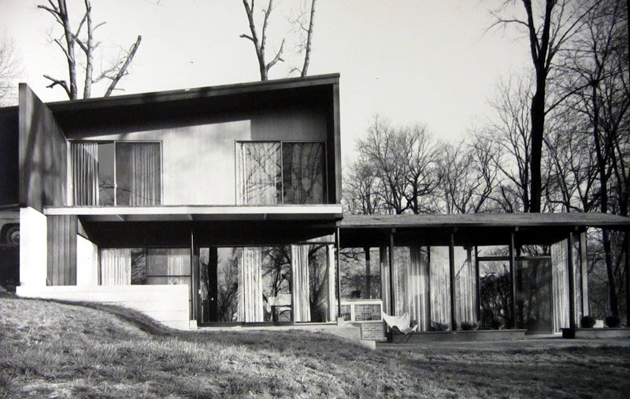 In February, 1967, King married Constance Goldman-Baer, a St. Louis native, and they moved to Pittsburgh, Pennsylvania, where he joined the Westinghouse Corporation as manager of Architecture and Interior Design. He eventually became director of the Corporate Design Center for Westinghouse. In 1973, they moved to Ponte Vedra, Florida, where King managed the Architectural Design Department for Westinghouse-Tenneco Offshore Power Systems. In 1979, he returned to private practice in Florida and continued after he and Connie moved back to St. Louis in 1990.
Charles died on August 16, 1993 and his Central West End home at the age of 73. At the time of his death, he was working on a design for a residence. He enjoyed a prolific career. His body of work includes more than 200 homes and commercial buildings in Illinois, Missouri, Pennsylvania and Florida. He also did design work at Randolph Air Force Base in San Antonio, Texas and Nellis Air Force Base in Las Vegas, Nevada.

In October 2014, Nine Network of Public Media's Living St. Louis program visited several homes to learn about the architecture of Charles Erwin King.
---
In 1949 King was elected to membership in the St. Louis Chapter, A.I.A. and in 1967 was bestowed "Fellowship" status, the most prestigious honor granted by the American Institute of Architecture, for his achievement in Design. He was Program Chairman 1956-1957, Director 1962-1964, Chairman, Urban Design Committee 1964-1966, and Professional adviser, National Competition for Design of the St. Louis Gateway Mall in 1966.
Professional awards include the Francis J. Plym Fellowship in Architecture, 1951 University of Illinois; A.I.A. Silver Metal Award for the Contrael residence in Belleville in 1953; Brauer and McQuillan residences in Belleville, Better Homes & Gardens' "Five Star Homes 1950-1960"; Institutions Magazine Honor Award, Food Service Design for Belleville Township High School Cafeteria and Centerville Grade School Cafeteria, 1959; Bell System Merit Award for Excellence in Architecture, Edgemont Dial Office Building, 1960; Institutions Magazine Award for outstanding institutions interiors, Town House Motel, 1961; Profession adviser, St. Louis Gateway Mall Competition, 1966.
One of King's most notable awards was being named in 1991 as one of the "Top 100 Architects in America" by Architectural Digest. In 1988, he was featured on ABC's "Good Morning America" for his design of a dream home built into the bluffs near Washington, Missouri.
In November of 1990, King was granted "Emeritus" status by the A.I.A., and although technically retired from the architecture profession, he continued to design homes until his death.
Click photo above to view all photos. Some of these photos are copyrighted by the Belleville Historical Society. Thank you to Matt Marcinkowski for contributing to this album. Any use of these photos should be credited to the Belleville Historical Society, including a link to bellevillehistoricalsociety.org. If you would like a print copy of a photo, please send an email request to bellevillehistoricalsociety@gmail.com.

---
More about Charles E. King