Charles E. King Works | Belleville City Hall
2012 Plein Air Art Auction: Site and Artist Map | Event Details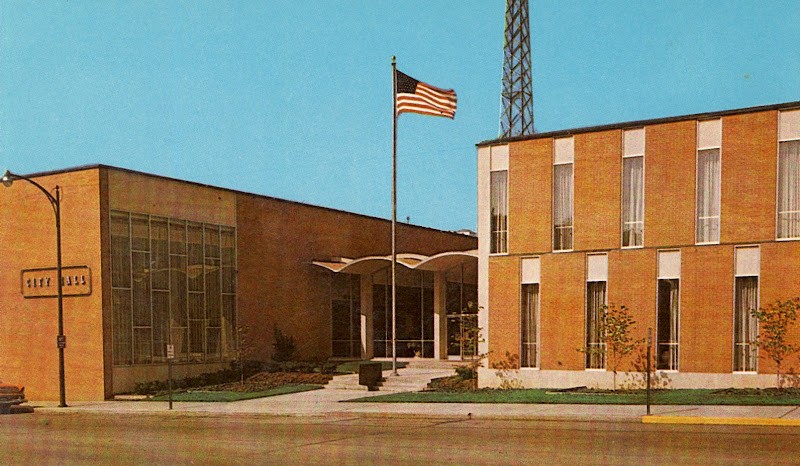 The Belleville City Hall at 102 South Illinois Street was designed in 1957 by Architect Charles E. King and built in 1957-59. It was built on the site of the old City Hall that had been built in 1891.
Architect Charles E. King | Belleville City Hall
102 South Illinois Street
Belleville, IL 62220
Scroll down for information about artist Gary Karasek.
Artist Information
The brother of artist Carolyn Karasek and son of the late well-known artist Edward Karasek, Gary
Karasek has been surrounded by art his entire life. With a passion for design, the artist earned a
Masters Degree from the University of Illinois in Architecture. It was his love of art on a large scale and his experimentation with a wide variety of art media ranging from drawing, painting, sculpture and
theater sets that created the path to his degree in architecture. Karasek continues to this day to
integrate the arts with everything he touches. These artistic skills allow him to focus on the creative,
the imaginative and the fun of architecture.
The artist has recently been involved with several theme park projects that creates an outlet for his
creative background. Locally Karasek works in residential and commercial projects in which he
integrates his imaginative and creative talents. He is also a principal with U-Studios, Inc.
More on Charles E. King
This fall the Belleville Historical Society, in partnership with Lindenwood University, will open a permanent exhibit featuring the life and Belleville works of Charles E. King (see album below). The exhibit will be housed in the Alan J. Dixon Student Center (formerly the cafeteria building of Belleville West High School) at Lindenwood University, which was designed by King and built in 1957.
The Historical Society will hold an opening reception for the Charles E. King exhibit on Sunday, November 4 from 2-4 p.m. at the Alan J. Dixon Student Center. Event information will be posted to the website this fall, and will also be available at the Plein Air Art Auction on September 15th.