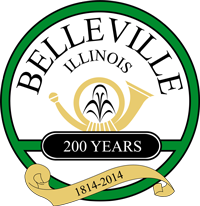 In 2014, Belleville celebrates its 200th birthday! Throughout the year, the Historical Society will be involved in events to celebrate and promote Belleville history. Check this page for updates on Historical Society events, and follow us on Facebook to get the latest news.
Share Your Treasures, Tell Your Story Exhibit
The Belleville Bicentennial Museum is coming to the Schmidt Art Gallery at SWIC from July 3, 2014 to 15 August 2014. You are a vital part of this project because the museum will consist of artifacts from Belleville's history loaned by their owners for the exhibit. Check your attic and fireplace mantel to see what you have that reflects Belleville's history.
To nominate artifacts for the museum, read the Belleville Bicentennial Exhibition Call for Submissions. Apply to submit an entry online via the Belleville Bicentennial Exhibition Application. For more details visit the Bicentennial website.
For questions, email bicentennial200exhibition@swic.edu.