2012 Plein Air Art Auction & Street Fair
« See All Events
View map and list of participating sites and artists »
Paint Historic Belleville
The first annual "Paint Historic Belleville" Plein Air Art Auction will feature twelve local artists painting at—and creating original paintings of—some of Belleville's most beloved historic sites.  Artists will work at sites throughout Belleville from 8 a.m. to noon on Saturday, September 15th, and the public is encouraged to visit the sites and watch the artists as they paint en plein air, French for "in the open air."
Paintings will be donated to the Belleville Historical Society for an auction starting at 1 p.m. at the Garfield Street Historic Saloon, with all proceeds going to the Belleville Historical Society to sustain preservation activities.
The event will also include a family-friendly street fair at Garfield's, with food, crafts and live music.
RSVP and invite your friends on Facebook »
Event Details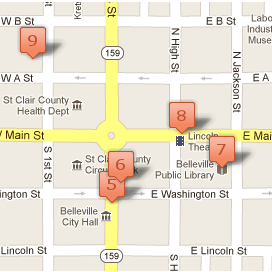 Saturday, September 15, 2012* | 8 a.m. – 3 p.m.
Historic sites throughout Belleville and 600 block of East Garfield Street
View map and list of participating sites and artists »
8 a.m. – 12 p.m. 12 local artists will paint outdoors at selected historic homes and buildings throughout Belleville
10 a .m. – 2 p.m. Street fair at Garfield Street Historic Saloon (633 E. Garfield St.), with live music by John Farrar starting at 11 a.m. on the Garfield's patio
1 p.m. Paintings will be auctioned to the public at Garfield's
Food and beverages will be available for sale by the Belleville Historical Society
For more information, please email bellevillehistoricalsociety@gmail.com.